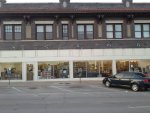 OAK CLIFF
Lucky Dog Books
911 W. Jefferson
Dallas, TX 75208
Phone: 214.941.2665
facebook & twitter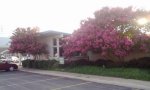 LOCHWOOD
Lucky Dog Books
10801 Garland Rd.
Dallas, TX 75218
Phone: 214.827.4860
facebook & twitter



DOWNTOWN MESQUITE [Closed Tuesdays]
Paperbacks Plus
108 E. Davis St. Mesquite, TX 75149
Phone: 972.285.8661
facebook & twitter

Contact
EMAIL us at
info@luckydogbooks.com

Hours
Mon-Sat: 10am-9pm
Sun: 12noon-7pm

X Tue - Mesquite


---
DART Schedules
---

Services

Books Mailed



History
The bookstores known today as Paperbacks Plus and Lucky Dog Books opened in downtown Mesquite in 1974. Click here to read the beginning of a history that chronicles the early years from 1973-1984 and/or here to read a story that ran in the Mesquite News about our recent 40th anniversary event and/or here for a feature published in the Sunday, September 8, 2013, edition of The Dallas Morning News with 4 photos including the one below by Kye R. Lee taken at the Lochwood location on Garland Road.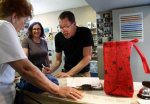 And another short video from the Lakewood years.




Here is a link to the KERA 90.1 FM radio show that aired June 9, 2014, featuring several local bookstores including Lucky Dog Books.


---

GOOGLE MAP
DALLAS AREA
BOOKSTORES
We've compiled a map of Dallas area bookstores past and present that you might like to check out. Let us know of others that should be added.


Lucky Dog Books
welcomes you to
check out our newest
location in N. Oak Cliff
at 911 W. Jefferson!

We think you will like all the additional light in this new location. Everything is on one floor in this expansive space that still has several individual rooms and alcoves to enhance your browsing experience.
Our community room here is much more open being in the front of the bookstore with coffee and soft drinks available right outside. We hope to add some food/snack service before long.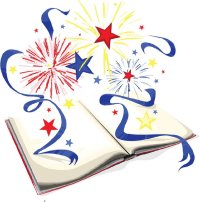 ---

Buy A Bookstore?

We've been doing this for over 40 years and are wondering if it's time to let someone else give it a try at one or all the locations? A younger couple? A neighborhood co-op? Please click here if you or someone you know may be interested in this.


Start a cafe?

Each bookstore has room for some sort of cafe. We'd like to find the right folks for each location to get one going. Click here to pursue this idea.-->

---

4 WAYS TO
GET $5 OFF


Start a new account for store cedit from trade-ins you bring to the bookstores
Pass along one of our "Share the Love" bookmarks to someone else who starts a similar account.
Sign up for our email list at one of the bookstores to receive notice of news of & events at the bookstores
Like us on Facebook and send us your email address for our mailing list as above.


---

WORDS & MUSIC
Lessons, concerts, and so much more.



When not on the road with musical partner Steve Hughes,
ANN ARMSTRONG
teaches beginning and advanced guitar and songwriting to students of all ages at Lucky Dog Books in Oak Cliff and Lochwood. Listen to her here or wherever you find her playing.



GUITAR LESSONS
WITH JACKSON ELI
Jackson studies music at UNT in Denton, Texas, teaches students of all ages and interests at the Oak Cliff bookstore. Info? Text Jackson at 214.566.7828


SHARE THE LOVE
For a limited time we are offering bookmarks that will reward you for sharing them with someone who will start a new account with us by bringing things to trade-in for store credit. You'll each get $5 off on your first purchase thereafter. Please click here for more details.
---
YOUNGER READERS


Younger readers are very important to the bookstores. We want to encourage you to encourage them to read. So keep us in mind as a pretty inexpensive, quieter than average place to spend some time with your child, grandchild, niece or nephew.


---

SEMILLITAS
GIRLS' BOOK CLUB
Has Moved To
Cedar Crest House at 2223 W. Jefferson

This craft activity and book talk for girls in grades 2 - 5 is a great format. The goal is to help girls become lifetime readers. A facilitator guides discussions with each girl presenting on whatever book she's reading at the time.

We were happy to have them at the old location and wish them well at their new home which they started using during our move. Here is their contact info if you need to reach them: Email
Ofelia Faz-Garza.

Please note that we here at Lucky Dog Books would love for others to emulate this format for book clubs at any of our locations for adults or children. We think that it makes for a more relaxed and informative experience since everyone isn't having to find the same book and read it on a deadline everytime rather than just showing up and telling about what each has been reading so that everyone knows about more books that might be of interest.


SUBSCRIPTIONS

Please be aware that you can give a reader in your life a monthly subscription to the bookstores that will provide them with the number of $5 off Mini-Gift Certificates that fits your budget. And you'll only pay for it each month as it happens through Paypal with the ability to cancel anytime.

Or consider subscribing to the bookstores today as a way of expressing your committment to their future while enjoying the full value of your participation through the monthly receipt of our Mini-Gift Certificates.


---

SPECIAL BOOK CERTIFICATES

These are a great way to help the bookstores and get a payback in the process.

Check out the details of how they work and some suggestions for how they may be used at this link.


---

Books

Fiction

Non-Fiction

Paperbacks

Hardbacks

Children's Books

Sheet Music

Comics & Manga

Magazines

Large Print

Audio Books

Other Languages

Also, many new, used, and out-of-print titles by local writers.

Movies


DVD, VHS, Laser...

Music


CDs, LPs, 45s, 78s...
Ask us about new CDs recorded live at Poor David's Pub and elsewhere by local musicians.


---
DART Schedules
---


PTA MATTERS
We think there are a lot of opportunities for us to work together to benefit neighborhood schools and their students. Here is link to some ideas about this. Please feel free to contact us if you think of other ways we might be helpful.