A History of Paperbacks Plus and Lucky Dog Books
The bookstores known today as Lucky Dog Books and Paperbacks Plus had their beginnings in 1973. The following is the start of a history told mostly by chronicling what happened in the most significant years.

1973
John and Marquetta established Saturday Books in 300 sq ft of the office space in the corrugated iron warehouse at 100 Roberts Street that John's father Earl had built in the mid 50's with a carpenter friend of his in Terrell, Texas, where John was raised and became a book worm.

Earl and John were there already every Saturday building wooden signs that they sold during the week. That was the only day that the bookstore was open. So the idea was that if someone came to buy some books, money would be made from that; and if no one came, money would still be made from the signs they built that day anyway.

Part of the opening inventory for this store was a selection of 1,100 paperbacks for which John traded Ken Gjemre of Half-Price Books (by then on McKinney Avenue) an old horizontal style soft drink box that earlier in the day he had received in a trade for one of his signs.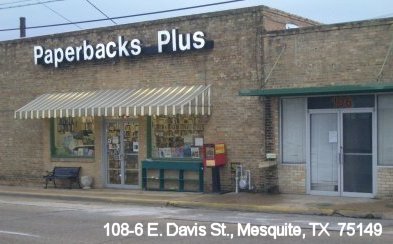 1974
With $500 in cash and $500 on a credit card along with Earl's help building the shelving, John and Marquetta started their first full time bookstore in the small building (~850 sq ft) that they rented for only $100 per month at 106 E. Davis Street in Downtown Mesquite, Texas next door to the current location. It was called Paperbacks Plus since the selection that they offered was now more than just paperbacks. They worked their regular jobs until about 4 each afternoon before they relieved their first staff member for the rest of the evening with Marquetta handling the Saturdays there.

1976
This was a very eventful year. The folks who had owned the larger building at 108 E. Davis in Mesquite moved to East Texas and wanted to sell the building and were willing to take only $2,500, financing the rest themselves, a deal that couldn't be turned down. This building gave the bookstores their first long term home as it has been to this day.

John and Marquetta had been driving through the Lakewood area for the past couple years on their way to Mesquite from the house that they had rented in the M streets when they moved back to Dallas in the early 1970s. They liked the area and noticed the empty space at 2307 Abrams Road and later that year, with Marquetta quitting her job with the State of Texas to run it, started the bookstore that would move around the neighborhood for the next 18 years before finding a long term home at the building on La Vista.

1979
The Lakewood bookstore expanded into 23051/2 as well adding about 50% more space.

And the Mesquite bookstore started hosting free readings and performances from a host of local creative folks as well as those who would travel from Ft. Worth, Oklahoma City, Little Rock, and Austin...among others...to share their work. These would go on for the next 3 years or so.

1983
East Dallas poet Robert Trammell, while working at the Lakewood store begins a series of readings at that location which featured a diverse group of talented local writers and artists who lived in or frequented this part of town.

And the Mesquite bookstore was able to expand the space for book browsing to almost the full building after being able to move out of the rear area all the stored boxes of books that had made up our excess inventory.

1984
The Lakewood bookstore lost its lease through a "legal formality" that caused it to have to be moved between a Friday afternoon and the following Tuesday even though it had not previously been known that this was necessary until about Noon on that Friday. Through the yeoman like efforts of Janis and Carole as well as Bob Trammell and others, we were able to get moved what we didn't put out for free to a new home at 6344 Gaston, in the heart of the Lakewood Shopping Center, that was only about 2/3rds as big as the previous location. About the same size as the original store front on Abrams 8 years before.

To be continued...

(c) 2014 Lucky Dog Books

Home